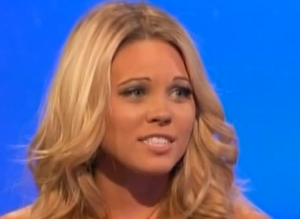 If she didn't know before, she definitely knows now.
Aaryn Gries, who has been caught making racist remarks on the live web feed of CBS Big Brother, was confronted with those remarks Thursday night by host Julie Chen.
The interview took place moments after her fellow house guests unanimously voted her off the show, 5 to nothing.
The audience gasped as Chen read Aaryn's own remarks back to her.
Ace Show Biz reports that Gries looked on stunned and deflated.
"I honestly feel horrible. I feel like in Texas we say things that are sometimes… We joke and we don't mean it. I really feel bad that this is how it has been seen and how I've come across to people. I don't want to seem like that person and I really do respect everyone in this game, although we have had some really hard times because we're all fighting for our lives in the game."
Earlier in the interview she said
"Andy and I are great friends. Candace and I are great friends. I love Helen more than anything."
You can see the entire exit interview with Aaryn on Ace Show Biz.