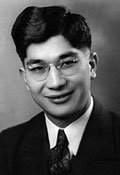 The reputation of Mike Masaoka took another hit this year with the success of George Takei's musical, Allegiance: The Musical.
The play set box office records at the Globe Theater in San Diego and is now in development for Broadway.
Masaoko was a leader in the Japanese American Citizens League who supported compliance with the order sending 120,000 Japanese American into incarceration camps during World War II. He was also among the first Japanese Americans to volunteer for military service fighting for the United States.
Recently the Japanese American Citizens League, Santa Cruz chapter celebrated the 25th anniversary of the passage of redress and Grant Ujifusa gave remarks coming to Masaoka's defense.
They are reprinted in the Rafu Shimpo.
Ujifusa said:
"We also need to remember that no Japanese American or Japanese American family in 1942 had to listen to anything Mike said, and could have resisted in any way they wanted. Only three did, and nobody else."
You can read Ujifusa's entire remarks and about the role Masaoka played in getting redressed passed in Rafu Shimpo.