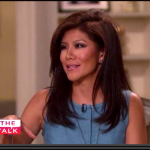 Julie Chen responded to criticism from some Asian Americans that she was denying her culture by having eyelid surgery to make her eyes look more western, reports Entertainment Weekly.
Chen made her comments Monday on her daytime show, The Talk.
"What was hurtful was that hateful comments that I read where people were judging me were people from my own community. It was comments like 'way to give in to the western standards of beauty, you know. You're denying your heritage. You're trying to look less Asian.' Guess what, I don't look less Chinese. I'm not fooling anybody," joked Chen.
You can hear the reaction she received from her own family to her eye surgery on Entertainment Weekly.