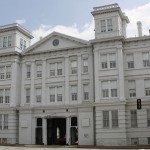 The Washington Metropolitan Police say one of the 12 people killed by a gunman Monday at the Navy Yard in Washington is an Indian American, reports Hindu Business Line.
61-year old Vishnu Pandit was a defense contractor, but little other information has been released about him.
He was killed by Aaron Alexis, who also died in the shootout.  According to the New York Times, the 34-year old Alexis had past encounters with the law and an interest in Buddhism and Thai culture.