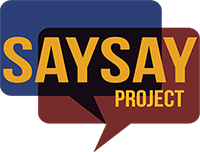 The stories of Filipino Americans and how they connect to both the community in the United States and the Philippines are being gathered by the Say Say project of the Fil-Am Arts, reports KCET.
The project hopes to counter the feeling of invisibility by Filipino Americans and to connect them to their Filipino identity.
Say Say is an expression in Tagalog meaning "to have intrinsic value and to declare."
"It made me reflect about who I am, how I got here, said Pilar Diaz, who shared her story with the Say Say project.  Even though I go about my everyday life in L.A. operating as an American, telling my story reminded me that I'm Filipino, have Filipino values, and see the world as a Filipino too."
You can learn a lot more about the Say Say project on KCET.