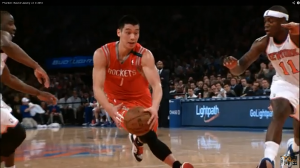 Dwight Howard and Jeremy Lin know what the expectations are, reports Ultimate Rockets
"We want a championship," Howard said. "That's the only thing that matters."
And those expectations have brought with it a big spotlight.
Houston Rockets Media Day Friday attracted not only local media, but a throng of reporters from national media as well.
Sports Illustrated, USA Today, ESPN, ESPN.com, Fox Sports1, NBA.com, NBA Entertainment, TNT and NBA-TV were all represented
Lin is frank when he says he realizes he didn't live up to the expectations placed on him last season. But this season he says he's more prepared for the attention and the weight of expectations.
"I think learning to manage expectations, learning to deal with expectations, learning which voices to tune out, that takes time," Lin said. "You have to fail at it to get where you want to get to.
That's something Lin and new teammate Howard have in common. Howard knows that he did not do well under the glare of showtime in Los Angeles.
"If you get caught up in the good, bad and the ugly, it messes you up as a person and as a player. I think some of that happened with me last year. I allowed the bad stuff that happened to really sit in my head. I pushed myself away from people and different situations. That's not who I am. You have to stay away from that negativity or whatever it may be and just focus on the task at hand."
"A key thing for us is to block out what's coming in from the outside," echoed Lin.  "We're going to have losing streaks. We're going to have slumps. Every team does that. It's a matter of being focused, making all of our concerns internal, communicating openly, directly with each other. I think those are some of the keys when you talk about turning out outside noise and staying focused on our own expectations."
You can watch a one on one interview with Jeremy Lin on NBA TV and watch Lin's news conference on NBC.Com.