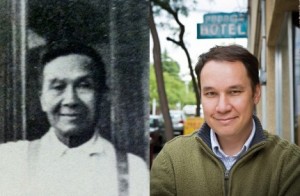 Jamie Ford's (pictured here with Great Grandfather) 2009 debut novel Hotel on the Corner of Bitter and Sweet became a prized best seller.
His follow up novel promises to be just as heartwarming, according to the Sacramento Bee. Songs of Willow Frost follows a Chinese orphan's journey to find his mother he's convinced is an actress he's seen in a movie.
"Melancholy will always be my writing partner, and I will make a living by breaking my own heart on a regular basis, " Ford originally wrote in his author notes. But he says the line was edited out because he didn't want to seem melancholy.
Ford who is half Chinese describes both of his books as "writing about the cultural narrative of Asian America. "
 "Both books move through time (via flashback) and touch on a lot of lesser-known historical and cultural issues. I'm like an archaeologist sifting the sand and occasionally finding a bone. It's exciting."
 Ford, 45, got a late start writing books. You can read about his life and the life changing events that motivated him to become an author in the
Sacramento Bee
.