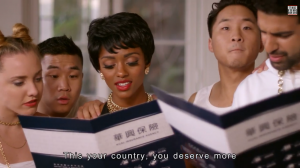 The Fung Bros got their Healthcare Swag on.
The Bros from the 626 and stars on You Tube have produced a video targeted at young people to explain the Affordable Care Act, reports the Daily News.
Borrowing the tune from Miley Cyrus' We Can't Stop,  the Fungs added their own original lyrics to explain the benefits of the program and how people can enroll.
Their video, Healthcare Swag,  is commissioned by KCAL Insurance.
"KCAL reached out to us and said they would help us out on the budget," Andrew Fung, 24, said. "We thought, 'OK, we can do this. It would be fun and interesting and it might actually help people.' We always like to educate people about something in our videos. I know a lot of my friends don't know anything about this health care thing. We tried our best to boil it down and at least get people to think about it.
You can read more about the video on the Daily News and watch the video below.