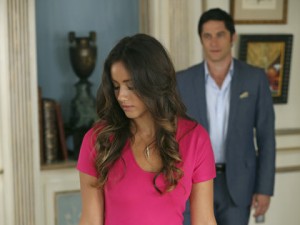 Actress Chloe Bennet plays Skye in the new series Marvel's Agents of S.H.I.E.L.D.
According to Guy Aoki of the Media Action Network for Asian Americans, Benet is listed in ABC's annual report as Asian American.
Aoki questions whether the Hapa should really count because in Aoki's mind she doesn't look Asian.
"We have a growing dilemma with Hapa actors.," writes Aoki in his column for Rafu Shimpo. "If they can pass for white, that's often what their characters are. Yet the networks count them as Asian. As I've told them before, while that benefits their company to show how "diverse" they are, it doesn't benefit the community if no one knows they're part Asian."
Its an interesting question, but I have to disagree with Aoki that Bennet doesn't look Asian. It's not obvious at first glance, but when I first saw her I actually turned to my wife and asked if she thought Bennet was Asian. My wife said "no, she's white." But there was something about her features that made me think she was hapa.
As it turned out, I was right. Her father is Chinese American and her real name is Chloe Wang. She actually went to China to launch a career as a singer, and according to an article in the Chicago Sun Times., did well.
Check out the song she did in Mandarin below.
Now back to Aoki's question, should Bennet count as Asian if she doesn't look it? That's a difficult question. Bi-racial children are a part of America's landscape. It's something that can't be denied, especially in the Asian American community where its become quite common in the Japanese American community and more and more in the Chinese American community.
Bennet could easily pass as white. In fact, some on Facebook have questioned why she chose to go by Chloe Wang in China, but Chloe Bennet in the United States. It would be nice if Bennet or Wang would do something on S.H.I.E.L.D to embrace her Chinese culture, but I wouldn't expect it.
Hopefully she'll embrace it in future media interviews and on the talk show circuit. If she did that, I think some of Aoki's concerns would be addressed.