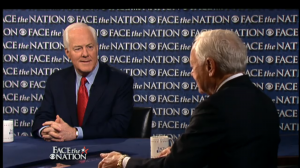 When it comes to the Sunday talk shows, Asian Americans don't seem to matter much to the producers booking the guests for those shows.
A new report by Media Matters finds guest appearances by Asian Americans on these newsmaker programs is just slightly above Middle Eastern men and women, but below that of Latinos, African Americans and significantly below white guests.
White men make up the bulk of the guests, outpacing even white women by a three to one margin on some shows.
The program getting the most credit for inviting the most diverse guests is Melissa Harris-Perry on MSNBC. The same network also gets credit for its diversity. 23 percent of the guests on MSNBC are men and women of color.
You can read more details of the findings on Media Matters.