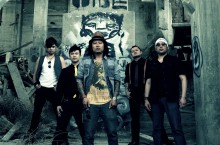 It seems  odd that the US Patent & Trademark office in an attempt not to offend Asian Americans is refusing to patent a name AAPIs don't seem to mind.
But that's exactly what's happening to the Slants, an Asian American rock band out of Portland, Oregon that has been unsuccessfully trying to trademark its name for four years.
The Business Journal reports the band plans to contest the latest rejection to the federal circuit court.
The group claims that 760 variations of the word Slant have been submitted to the trademark office and theirs is the only one to be rejected.
"Their only justification for applying an accusation of disparagement on our case but no other applicant was based on my race," said Simon Tam, the band's Asian-American manager who filed the trademark application. "In fact, the implication is that if we weren't Asian, there wouldn't be any problems because people wouldn't associate our name with an obscure racial slur."