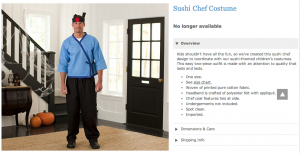 Asian Americans Advancing Justice, a coalition of  four Asian American civil rights organizations, is demanding that national retailer Pottery Barn stop marketing and selling two articles of traditional Japanese attire as Halloween costumes.
In a letter to Sandra Stangl, President of Pottery Barn, AAAJ writes "Our problem is not with the attire itself; it is with the fact that Pottery Barn is marketing
these outfits as costumes. As a student-led campaign in 2011 put it, "We're a culture, not a costume."
Like other minorities, Asian Americans and Pacific Islanders are real people who
cannot and should not be commodified as Halloween costumes. There is a
history in this country of using caricatures to reinforce stereotypes of minorities
as perpetual foreigners who are somehow less "American" than white Americans."
AAJC is also asking for an immediate apology.
What's hard to figure out is why would Pottery Barn even be marketing Halloween costumes? It's a furniture store. Do they really expect someone who goes into Pottery Barn to buy a costume will also leave with a new sofa, or even a new ornamental fixture for their living room?
One can only imagine what a person wearing a Kimono or sushi chef costume will be tempted to do. You can just see Halloween celebrants doing the squint eye along with a greeting in a bad and offensive Japanese accent. It's Mickey Rooney in Breakfast at Tiffany all over again.
Pottery Barn has little to gain and a lot to lose if they continue to reduce Asian American culture to a Halloween costume. They would be wise to cut their losses and remove the costumes from sale.
Asian American Advancing Justice consist of Asian Americans Advancing Justice – Asian Law Caucus (based in San
Francisco), Asian Americans Advancing Justice – Los Angeles, Asian Americans Advancing Justice – Chicago and Asian Americans Advancing Justice – AAJC (based in Washington DC).
Their entire letter is below. What do you think? Should Pottery Barn stop selling these costumes?
Sandra Stangl, President, Pottery Barn
Leigh Oshirak, Vice President, Public Relations, Williams Sonoma
Sara Kerns, Public Relations, Pottery Barn Kids
151 Union Street
San Francisco, CA 94111
October 25, 2013
Dear Ms. Stangl, Ms. Oshirak and Ms. Kerns,
Asian Americans Advancing Justice, the national affiliation of Asian American
and Pacific Islander civil rights organizations, is writing to demand the immediate
removal of Pottery Barn Kids' "Sushi Chef" and "Kimono" costumes and that
Pottery Barn issue an apology for marketing and profiting from offensive
merchandise. We were surprised, quite frankly, to see these costumes being sold
by a national retailer based in San Francisco, a progressive city where more than
one third of residents are of Asian American descent.
While we don't find the "Baby Sushi" costume offensive, given that it clearly
represents food, we do take issue with the "Sushi Chef" costume, which is
composed of ostensibly traditional Japanese attire and a Japanese-flag bandana,
and the "Kimono" costume, which is nothing more than a Japanese kimono. Our
problem is not with the attire itself; it is with the fact that Pottery Barn is marketing
these outfits as costumes. As a student-led campaign in 2011 put it, "We're a
culture, not a costume."
Like other minorities, Asian Americans and Pacific Islanders are real people who
cannot and should not be commodified as Halloween costumes. There is a
history in this country of using caricatures to reinforce stereotypes of minorities
as perpetual foreigners who are somehow less "American" than white Americans.
Commercial characters such as Popchips' Ashton Kutcher as "Raj," painted in
brown face, and Quaker Oats' Aunt Jemima are evidence of this, but costumes,
such as "Kung Fool," "Osama bin Laden" and the unfortunately long list of Native
American sports mascots, also play a role in cementing stereotypes that slow our
march to equality.
www.advancingjustice.org
We hope that you heed our demands by immediately removing these costumes
from your web site and issuing a public apology. Should you have questions
about future merchandise that may be considered offensive, please consider us
as resources to better serve your sizable Asian American and Pacific Islander
customer base. We would be happy to meet with you in person.
Signed,
Asian Americans Advancing Justice – Asian Law Caucus (based in San
Francisco)
Asian Americans Advancing Justice – Los Angeles
Asian Americans Advancing Justice – Chicago
Asian Americans Advancing Justice – AAJC (based in Washington DC)