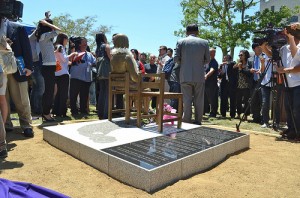 A letter from the mayor of Glendale, CA to its sister city in Japan is bringing to the surface a deep rift caused by the city's recently installed memorial to comfort women, reports the Los Angeles Times.
Mayor Dave Weaver sent a letter to the mayor of Higashiosaka expressing his regrets for the city's memorial to those held as sex slaves for the imperial Japanese Army during World War II.
Weaver's letter was prompted by concerns expressed by Higashiosaka Mayor Yoshikazu Noda criticizing the memorial.  Many in Japan contend the women were not sex slaves, but worked as prostitutes.
Weaver's dissent against the memorial was the lone vote against it when the city approved it.
"We don't always have to agree, but we all have to respect the final decision, and that includes the mayor," said Councilwoman Laura Friedman.
The memorial has also caused a divide between some members of the Korean American and Japanese American communities. Many of those held as comfort women were from Korea.