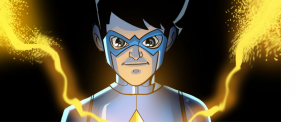 Raju Rai is a humble teenager who lives with his brother Sameer. But whenever Mumbaikars are in need of a rescue, Raju transforms into superhero Chakra-The Invincible.
Some of calling Raju, a co-creation of Marvel comics Stan Lee, India's first international superhero.
"I expect Chakra to appeal to readers around the world – not just India," says Lee to Business Today. "I try to create characters that connect with the basic human struggles and challenges which are relatable to people from Mumbai to Manhattan."
Chakra debut in the US last year and then in India. There's already talk of a US film based on Chakra.
You can read more about those plans and Chakra's Indian American co-creators in Business Today.