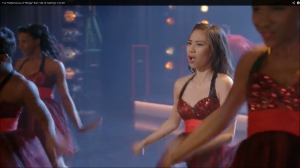 American Idol runner up Jessica Sanchez plans to follow up tonight's online benefit concert for Typhoon Haiyan relief with a trip to the Philippines, reports ABS CBN.
She will team up with Manny Pacquiao for a relief effort and she will also meet up with him in Macau next week where Pacman is scheduled to fight Brandon Rios November 23.
Pacquiao has come under some criticism for not doing enough to help the victims of Haiyan. The boxer has said he would like to visit the devastated area, but can't get away from the intense training he's going through in preparation for his bout.
Some have said if Pacquiao loses this fight, which would be his third straight defeat, it would mean the end of the boxer's career.
But Pacquiao is also a congressman in the Philippines and that has opened him up to criticism.
He has dedicated next week's fight to the people of the Philippines and hopes his victory will uplift his country in a time of need.
To that, Fox wrote:
Dedicating a fight to his people is great — Filipinos around the world live and die with his fights — but is that what they need most right now? Not saying his heart isn't in the right place, but this might not be the biggest help to the people who love him so much.
What do you think? Are Pacquiao's critics being fair to him? Is he doing enough?
You can check out a preview of the fight from HBO below.