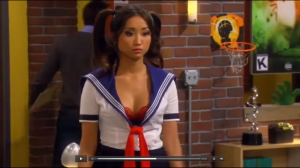 A big win and a loss for Asian Americans fighting for better portrayals in the media.
Dads has been put on indefinite hiatus by Fox, reports Deadline. The show was called by some critics the most racist on television for its depiction of  a giggly Asian American who dressed in a sexy school girl outfit to impress Asian businessmen .
But another show on Fox which featured Indian American Mindy Kaling in a lead role and as executive producer of the series is also being put on hiatus by the network.
Kalings character on the The Mindy Project has been praised for its strong portrayal of a women lead character and its depiction of an Asian American in a non-stereotypical role.
Both Dads and The Mindy Project are part of Fox's Tuesday night comedy block. Dads opened to strong ratings against weak competition, but then faded when such shows as Marvel: Agents of Shield opened opposite it.
The Mindy Project is set to return to the Fox line up on April 1.
No return date so far has been announced for Dads.
You can read more about future airing of Dads and The Mindy Project in Deadline.