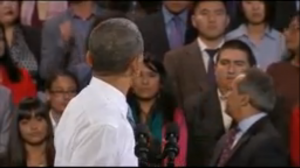 President Barack Obama pushed for immigration reform in San Francisco's Chinatown today, saying the debate doesn't just center around Mexico and that Asians need to be part of the discussion too, reports KGO-TV
"Today, more than one in four residents born outside the U.S. come from Asian countries," Obama said.
His message was delivered before mostly a supportive audience at the Betty Ong Chinatown Recreation Center, but it was interrupted by a heckler standing practically right behind the President– a spot normally reserved for one of the President's biggest supporters.
The heckler urged the President to use his executive powers to implement reform. Obama stopped secret service agents who were about to remove the man. He then explained that it takes more than screaming to change the law and he urged the now cheering crowd to join him. You can see the encounter below.
Before his speech, the President met with the family of Betty Ong, one of the heroic flight attendants killed on September 11 and for whom the Recreation Center is named after.
"He said your sister was a 9/11 hero and she did a wonderful, brave job after what she did on the airplane," Betty's brother Harry Ong said.
You can read more about the heckler and what prompted his outburst on KGO-TV.