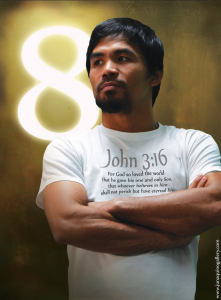 Manny Pacquiao's victory last Sunday is giving the people of typhoon-ravaged Philippines hope for a comeback.
Pacquiao defeated American Brandon Rios in a comeback fight he dedicated to victims of Super Typhoon Haiyan.
"This is not about my comeback," he said in the ring immediately after the verdict. "This is about my people's comeback from a natural disaster and a natural tragedy."
The World Boxing Organization (WBO) International welterweight broadcast the match in public areas in the city of Tacloban to lift the spirits of residents who suffered the worst of typhoon Haiyan's destruction. Whole families flocked to the main sports stadium to watch the match.
"I'm so happy that he won. This is a win for all Filipinos. It will surely uplift our spirits, especially the victims of typhoon (Haiyan)," said Mario Penaflor, 41, amid the joyful crowds in Tacloban.
Super Typhoon Haiyan has left an estimated 7,000 dead and missing after it tore through the central Philippines earlier this month. For more responses from Filipinos inspired by Pacquiao's victory, go to Dawn.com.