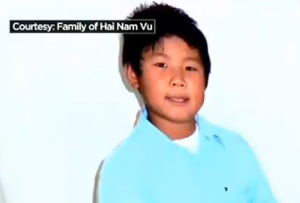 Updated 4:35 Pacific Time: Hundreds attended a funeral today for 10-year old Aaron Vu, a boy gunned down during a nail salon robbery in Miami.
CBS Miami reports that among those in attendance were many members of the African American community, who may not have known Aaron, but were touched nonetheless by the senseless tragedy their own community has seen too many times as well.
You can watch a video report from CBS Miami of the funeral below.
"We've got to get the sanctity of human life back," said Aaron's Pastor Davis Chase during a memorial service Sunday night. Aaron's father who is recovering from injuries suffered during the robbery was released from the hospital for a few hours just so he could attend the service. "Again let me thank the community," said Aaron's father Hai Nam Vu. You can watch last night's touching memorial service in the video clip below from CBS Miami