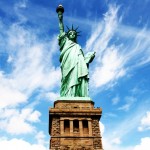 The New York Times reports that undocumented immigrants from the Chinese and Filipino communities are not signing up in large numbers for President Obama's deferred action program.
Numbers from the Migration Policy Institute show 52 percent of all undocumented immigrants have applied for the program providing protection from deportation and about 455,500 had been accepted.
Yet participation from undocumented immigrants in the Chinese community is only 9 percent. Filipinos are signing up at a rate of 16 percent.
Immigration advocates from those communities are renewing their push to get people to apply, but admit to having met some resistance.
"In the Chinese community it is so rarely discussed and there is such a community culture of silence about this," said Betty Hung, of  Asian Americans Advancing Justice – LA.
Gregory Cendana, executive director of the Asian Pacific American Labor Alliance expressed a similar frustration about the Filipino community.
  "People have tried to figure out a way not to talk about it," he said.
Under deferred action, undocumented immigrants who came to the United States as children would be protected from deportation, allowed to work and obtain a driver's license and would be eligible to renew their status in two years.
You can read how immigration advocates are trying to change this and why there's a sense of urgency in the New York Times.