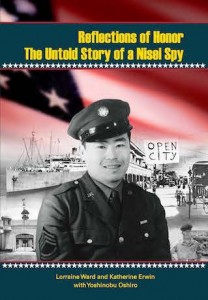 Arthur Komori was one of just two Japanese Americans who worked with the US Counter Intelligence Corps to spy on Japan in Manila prior to World War II.
A new book by Lorraine Ward, Katherine Erwin & Yoshinobu Osniro documents his life posing as a Japanese sympathizer and later as an undercover agent in General Douglas MacArthur's headquarters.
Komori was alongside MacArthur when he retook the Philippines and personally witnessed the surrender of Japan to the Allied Powers.
Reflections of Honor: The Untold Story of a Nisei Spy is published by the University of Hawaii at Manoa College of Education's Curriculum Research & Development Group.
You can learn more about the book at Hawaii.edu.