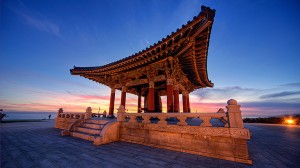 One hundred days of labor and $300,000 later, the Korean Friendship Bell, considered the West Coast Statue of Liberty to many Koreans, has been restored to its former glory.
The bell was gifted nearly 40 years ago by former South Korean President Park Chung-hee to the United States as a symbol of strong ties between the U.S. and Korea. The South Korean government spent more than $1 million to construct the bell and its pagoda, which was sent to San Pedro, a port district of Los Angeles, as a present for the United States' 200th birthday.
"When this bell was cast, Korea was still among the poorer countries in the world," said Chai Dong-Hey, the artist commissioned to restore the bell. "So for them to aspire to make the largest bell ever cast in Korean history … that was a giant project."
In recent years, the bell had fallen into disrepair with chipping marring the pagoda and the inside of the bell covered with graffiti. The city of Los Angeles claimed not to have the resources or expertise to fix the bell, so the Korean Ministry of Culture took up the task of restoring the masterpiece. Chai and his firm, Beom Jong Sa, finished the restoration in late November.
For more about the Korean Friendship Bell's history, read the article at the Seattle Times.