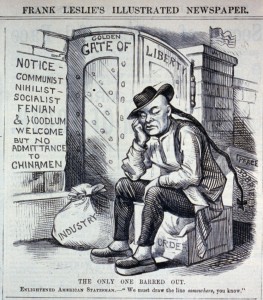 Florida remains the only state in the nation where the Chinese Exclusion Act was never repealed, reports WFSU.
It was 70 years ago this week, when President Franklin Delano Roosevelt signed a bill repealing the act that had been in force for 60 years.
Florida had its own law banning Asians from owning property as did 30 others.
Out of more than 30 states that had their own exclusion laws, Florida remains the only one where it remains.
A group of Asian Americans are pushing Florida state legislators to change that.
" We are enjoying one of the most beautiful, welcoming states. said Soma Sundaram, Chairman of the Asian Coalition of Tallahassee.  "We are living here with no problem at all. Why do you have a law that cannot be enforced? It looks racist when you look at it in the books."
You can read about previous failed attempts to get the law removed on WFSU.