Oklahoma City sportscaster Dean Blevins is backpedaling from a racially-tinged tweet he sent out to his 13,000 followers on Monday, reports TV Spy.
The KWTV sports anchor tweeted out that he wished people who worked in gas stations would "find the time to learn our language."
The tweet has since been deleted, but was captured by the Lost Ogle.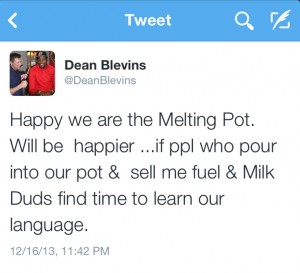 Blevins has since apologized.
Monday I tweeted before thinking. My comments were insensitive & it's not the way I feel. I regret what I said & apologize to everyone.

— Dean Blevins (@DeanBlevins) December 18, 2013
You can read the CBS affiliates response and another tweet Blevins likely regrets in TV Spy.