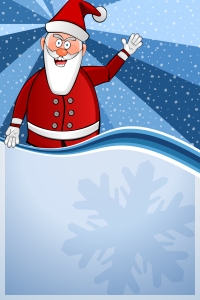 Megan Kelly of Fox News recently found herself in the middle of a controversy when she declared that Santa was white.
Do you think it would make a difference to your kids if you took him to an Asian Santa or even a black or Latino Santa?
Petula Dvorak of the Washington Post recently called Santa casting agencies to find out if race specific Santas were in the demand and she was told they get very few requests for such Santas.
She even said the person answering the phone at the Korean Association hung up on her when she tried to bring the issue up with him.
I don't ever recall sitting on a lap of an Asian Santa, although I do remember seeing one in action at my mother's Chinese music club. But that was well into my teens.
I myself never sought out an Asian Santa for my kids. Would it have made a difference for their self esteem and racial identity? At that age, probably not, although any impact could be conceivably subliminal. After all, many Asian Americans not seeing themselves in the media when growing up.
What do you think?