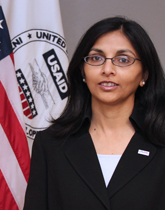 During his time in office, President Obama has appointed a record number of Indian Americans to key positions in the White House. According to Zee News, the number of Indian American appointees easily surpasses 50.
President Obama has praised Indian Americans for their talents in the past. When he met with Prime Minister Manmohan Singh at the White House last September he said, "Indian Americans make extraordinary contributions to the United States every single day – businessmen, scientists, academics, now Miss America is of Indian-American descent, and I think it's a signal of how close our countries are."
Key positions include Administrator of USAID, held by Rajiv Shah and Assistant Secretary of State for South Asian Affairs, held by Nisha Desai Biswal(pictured).
President Obama also recently nominated Dr. Vivek Murthy as the next US Surgeon General. If confirmed by the Senate, he would be the first ever Indian American Surgeon General.
For more Indian Americans holding key positions in the White House, go to Zee News.