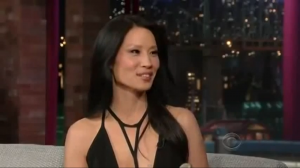 Actress Lucy Liu who stars in the CBS hit series Elementary says she grew up speaking Chinese in her household despite being born in America.
"I was born in the US but I didn't speak English until I went to school," Liu said in an interview with the British publication Metro. "I spoke Chinese with my parents. That sort of thing just changes the way you receive things and interpret and digest them."
Education was emphasized by her parents and her career path was not supposed to include acting.
"We rarely went to the movies. We did watch television but becoming an actor wasn't something that was even in the stratosphere as a career idea," said Liu.  "What came after high school was college; what came after college was a job. Acting was never a job that was ever considered. It was completely out of the ballpark, completely alien to my family. And, I think, to a certain extent it still is."
Liu got her first big break when she appeared in what was supposed to be just a guest role in the TV series Ally Mcbeal. You can read about why she almost didn't take the part in Metro.