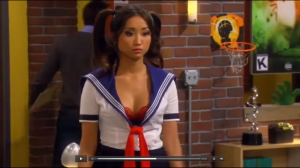 Can you name some of the top 10 best and worst pop culture moments for Asian Americans in 2013?
Northwest Asian Weekly released its list  of  memorable moments.
Included  is the Fox sitcom Dads and its pilot episode showing actress Brenda Song wearing a sexy school girl outfit as a way to entice Asian men into a business deal. That was number 7 on the top 10 list.
Nina  Davuluri became the first Asian American to reign as Miss America. The milestone in the pageant's history was marred by the racist reaction some spilled out on Twitter. Davuluri came in at number 3.
The success of Justin Lin's Fast & Furious 6 and the shocking death of the franchise's star, Paul Walker, came in at number 2.
So what else made the top ten and what came in at number 1. Check it out at Northwest Asian Weekly.
I can tell you I could care less about number 1, but that's just me. What do you think?