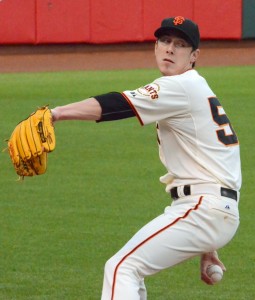 Northwest Asian Weekly has released its list of top 10 Asian American athletes in 2013.
The list is impressive, and helps to break the stereotypes that Asian Americans are only doctors, lawyers and even dishwashers.
The  list is dominated by those athletes with Northwest connections, most are of national significance.
San Francisco Giant and two time Cy Young winner Tim Lincecum (photo by Emil Guillermo) adjusted his pitching style in 2013 and showed flashes of brilliance, including a no-hitter against the San Diego Padres.
Indian American Vivek Ranadive bought the Sacramento Kings and hopes to turn the team into a global brand. He even launched a Hindi version of the King's website. However, while mentioned in the article, did not make the top 10.
Neither did former Notre Dame star football player Manti Te'o who gained notoriety for falling victim to an online catfishing hoax that involved a girlfriend that did not exist.
So who did make the list and who was number 1? Check it out in Northwest Asian Weekly.