(Note from the editor: Cassey Ho just very well might be a candidate for exercise queen of the Asian American community. The Chinese Vietnamese American was born in Los Angeles and raised in the San Francisco Bay Area. Her You Tube channel of exercise videos this year surpassed one million subscribers and has had over 100 million views. The pilates instructor and former Miss Teen Chinatown also has her own line of fitness clothes and gear. She talks about all of this in a First Person question and answer segment with AsAmNews)
You created pop pilates. What is that?

It's a format I created that fuses Pilates and Pilates-inspired moves with Top 40 Hits. It requires no equipment – just your own body weight to tone and lean out your body.
  I understand you used to teach pilates while you were in college, but you never intended this to be a career. What career path were you on and how did you diverge to being a blogger, You Tube star and exercise expert?
I actually still am teaching! I teach 2x a week at Equinox because I love it so much and love being around my students. Nothing can replace real human interaction.
My parents wanted me to be a doctor and though I graduated with Honors in Biology from Whittier College, following my passion helped me sculpt my dreams into reality. I posted my first YouTube video after graduating and the rest was history. I listened to my fans' comments and served them genuinely as their dedicated trainer. From there the Blogilates Community blossomed and now we are over 1 million subscribers and 100 million video views strong.
What did your parents think when they heard you had suddenly changed direction in your career?
They were skeptical and kept asking when I would go to grad school!
Did your parents ever forgive you and what do they think now, now that you have over one million subscribers on You Tube?
My parents just wanted me to be financially sound so I understand why there were so persistent and hard on me to pursue the medical career path when I was a student. But the amount of pressure they put on me nearly broke my soul and my hope for pursuing my own dreams. However, we are now closer than ever thanks to Blogilates. They play a very important role in the business!
 Honestly, can people really learn something and stay on an exercise program by watching your videos on You Tube?
It's all free!
 How do you think you were able to build up to one million subscribers on You Tube?
Being me. I honestly think it's my genuine passion for serving people that helped me get to that milestone. I thank my POPsters for getting us there!
 What's the secret of staying motivated to stay on an exercise regiment?
Finding your fire and deeper reason for working out. Exercise to feel the joy of getting fit and healthy. From there, your body will sculpt itself accordingly.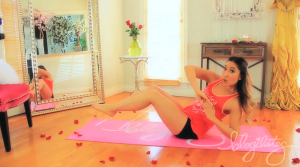 What's the best advice you can give for someone trying to lose weight?
Pay attention to your diet! Your physique is 80% diet and 20% exercise. Increase your veggie intake, take away sugary and friend foods, and drinks LOTS of water.
 Tell us about your line of fitness bags? Did you really design these yourself or did you give someone else permission to put your name on those bags?
Yes, I design and sketch every single piece in my oGorgeous collection. My childhood dream was to be a fashion designer so it really has been a "dream come true"! This was a business idea I came up with my senior year of college.
 What's your deepest secret?
Haha, I'm not sure?
   Is there anything you'd like to tell us about yourself that your fans don't know?
 One day I'd like to do a food eating competition and surprise everyone with how much I can eat.