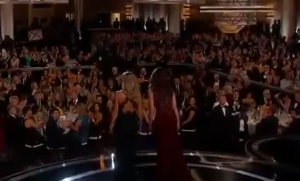 Although Asian Americans enjoy success on YouTube and Reality TV, you'd be hard pressed to find many successful Asian American professionals in Hollywood. In a recent Huffington Post piece written by Vietnamese American author, Andrew Lam, describes this "bamboo ceiling" in Hollywood, where discrimination, stereotypes and exclusion are the norm for Asians.
"The most recent evidence of this came during the Golden Globe awards ceremony, where viewers found it nearly impossible to find an Asian face in the audience, let alone an Asian name among the nominees," writes Lam.
On the other hand, Reality TV and YouTube have provided an opening for Asian Americans to be represented in the media. Not only to Asians compete in shows like Survivor, Top Chef and The Amazing Race, they win them.
There are also the Asian performers who have posted viral videos and become YouTube sensations. The most notable name in this respect is Psy, the Korean artist who has garnered nearly 2 billion views on his music video "Gangnam Style". But other Asian Americans have also enjoyed considerable success on YouTube, including Asian American artists Sam Tsui, David Choi and comedian, Ryan Higa.
According to Lam the exposure Asian Americans are getting through New Media is challenging the typical Hollywood notion of what actors and singers look and sound like. As Lam puts it, "they are giving old Hollywood a run for its money."
What do you think? Are the Asian American stars of YouTube and Reality TV changing attitudes in Hollywood?