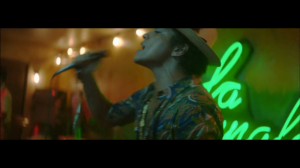 Bruno Mars is about to take the biggest stage of his life.

The two-time Grammy winner who is of Filipino and Puerto Rican descent will join such icons as Madonna, Beyonce, Black Eye Peas and Michael Jackson who have performed at half time at the Superbowl.

Yesterday I heard two sports talk show host compare Mars' sound to that of Michael Jackson.

That's quite a comparison. Add that to a viewing audience that can sometimes top 100 million people, and you have to wonder how Mars' is handling all that pressure.

You can see for yourself in the video report from ABS CBN below.