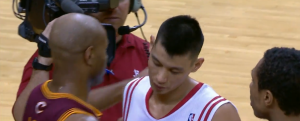 A funny thing happened in Houston last night.
James Harden returned to the line up after being out two games with a thumb injury.
So Lin, who had replaced Harden in the starting line up, was back on the bench.
In just 29 minutes of play, Jeremy scored 15 points, picked up 11 rebounds and distributed 10 assists.
That in basketball lingo is known as a triple double, a rare accomplishment in the NBA.
It's the first time Lin has ever achieved the milestone.
Lin has been on a roll. While Harden was out Lin averaged 18 points and 7.5 assists in wins over San Antonio and Dallas.
Teammate Chandler Parsons made the comment about Harden's absence. "When he's out, we have a more balanced attack. We run our sets and get the best shot available. When he's not there, we don't go one-on-one as much."
More people have become critical of Harden's tendency to dominate the ball through entire possessions and only give it up when he has no other options and usually when the shot clear is about the expire.
Nice to see Lin accomplishing his triple double with Harden back in the game. Perhaps Harden saw while he sat on the bench what Lin can do when he's allowed to do his job as a point guard.
Harden told the National after last night's game about Lin's triple double. "That's hard to do. It's just hard to be able to score the basketball, grab rebounds and pass the ball and get your teammates involved off the bench as a point guard. It's tough. But he's talented enough to do it and he did it."
Last night's game showed Harden, who scored 28, can still get his points even when Lin is distributing the ball at the point.
Hopefully this is the start of something big. Final score Rockets 106- Cavs 92.  You can watch impressive highlights of Lin's triple double in the clip below and read his comments after the game in the National.