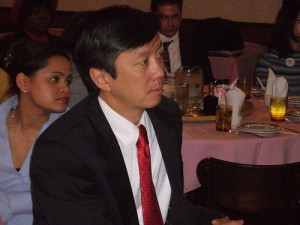 The model minority myth characterizes Asians as the highest-performing minority group in America. (photo by Dwight Evans for Mayor)
There are many issues with the model minority myth; one of them is that it masks the social problems that Asian Americans face and implies that they don't need social services or resources to perform well.
A new report about Asian Americans in Philadelphia debunks the idea that all Asian Americans are educationally successful and wealthy. The report also shows that lumping all Asian ethnic groups under the designation of "Asian American" is misleading and masks the wide differences between different ethnic communities.
For example, among Asian American ethnic groups, Chinese individuals own the most businesses, Koreans employ the most people, and Indian-owned businesses dispensed the most in total payroll, with around $99 million a year.
The report also showed that about 52 percent of Cambodian American youth live in poverty in Philadelphia. This is much higher than the citywide youth poverty rate of 35 percent.
"Contrary to the myth of Asian Americans as the 'model minority,' " said Philadelphia's Asian Americans United (AAU) executive director Ellen Somekawa, "the data we see in Philadelphia calls upon us to seriously rethink our investments in this community. We need to consider investments in poverty, in education and affordable housing. … This conversation is just the beginning."
To read more highlights from the report, go to Philly.com.