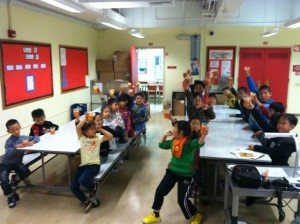 A study by Stanford University has found bilingual education is working, reports the SF Chronicle.
Researchers say students in bilingual education are as proficient in English as those English learners not being taught in their native language.
Voters in California essentially banned bilingual education when they passed Proposition 227 in 1998.
But Districts can get around the ban by having parents sign waivers authorizing their children to be enrolled in bilingual education.
In San Francisco, 30 percent of the city's English learners are taught in their native language.
The difference is those taught in their native language are more likely to be bilingual after six years.
You can read more about the study and the changing attitudes towards bilingual education in the SF Chronicle.