(Note from the editor: David Ono is the 4pm and 6pm news anchor of the number one news station in Los Angeles, KABC. He has also produced and reported a number of award winning specials on significant moments in Asian and Asian American history. He agreed to answer a few questions from AsAmNews and share those specials with our readers.)
Tell us about yourself?
The Japanese side of my family is not American so I didn't have any relatives in the concentration camps.  I was actually born overseas and came to the US when I was one.  My family is from Kumamoto, Japan.   That's on the very southern tip of the country.
After coming to America, we eventually settled in Texas.  That's where I grew up, went to college and spent the early years of my career.  I came to California 21 years ago.  First Sacramento for three years and then LA for going on 18 years now.  I've been here so long I can't imagine living anywhere else.  California is such a beautiful state and a place that seems to constantly feed my creative juices.  It seems this state, with its diversity and creative and technological industries, is a never ending stream of great stories.  My concern is where do I go when I retire?  There are so many parts of it that I love.
You've done several specials on the incarceration of Japanese Americans and the role
Japanese Americans played in the war effort. Tell us about them and where can they be seen or purchased?
I began producing long format pieces in 2011 when an organization called "Go For Broke", which represents Nisei veterans from World War Two, came to me and asked if I'd be interested in producing a short documentary on the Nisei soldiers' legacy.   The veterans were finally going to receive the Congressional Gold Medal later that year and the documentary would run during a special ceremony.   It initially was not intended for television.  I first discussed it with a production partner that I've done a number of stories with named Jeff MacIntyre.  He loved the idea.  So he grabbed his camera and we went to work.   We flew to Europe to document the Nisei soldier's incredible legacy on the battlefield.  It took some effort but we were delighted with the results.  We called it the The Unknown Warriors.  I presented it to my boss at KABC-TV to see if she would run it.  She loved it and it opened the door for me to produce other long format pieces.
Here are the videos we've put together so your readers can sample some of the work.  All of these are put together by the two of us.  Jeff shoots and edits.  I do the writing.  We both share in the producing duties.
Unknown Warriors–

Napalm Girl

Japan Tsunami

What inspired you to devote so much of your personal time to these specials?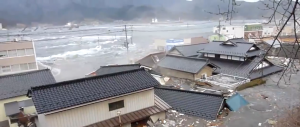 To me there's no greater reward than telling a story that moves people.  There is tremendous power and privilege in what we do as journalists.  We have the opportunity to inspire people by telling them about the remarkable accomplishments and lives of others.  For many of the people I've interviewed I am ecstatic just to meet them.  To have the opportunity to tell the world their story is immeasurable.
How were these specials financed? I understand at least some of the money came out of your own pocket? Is that correct?
It's generally true.  I do spend my own money and personal time on these projects but it's worth it.  It allows me creative control.  I don't burden other's with trying to justify the expense and I don't have to pitch a story to someone who may not "get it" until they see the final product.  All I have to do is make sure the story is legitimately good so it is worthy of our valuable air time.  If it is, then it runs. If not, then it doesn't.  So far we are batting a thousand.
What personal impact has producing these specials had on you? Describe any encounters you might have had while doing all the interviews?
I've met so many outstanding human beings.  To me, these veterans who fought so bravely are gods.  I grew up in a military family. I understand the sacrifices they've made that go beyond what was lost on the battlefield.  Every time I meet and interview one, I am in awe.  There's also the Nisei who were so unfairly incarcerated.  How they dealt with such adversity with great dignity just stuns me.  So many went on to live amazing lives with great accomplishment.  There are also the tsunami survivors who lost everything including family members but bravely forge ahead to rebuild their historic yet disaster prone communities.   These are all stories and people that will forever move me.   I'm proud to have had the privilege to shake their hands and get their permission to tell their stories.  They could so easily say no and continue on with their lives but instead they find some solace, even therapy, in having their stories told.  For them to trust me to tell it makes me proud.
How have you gotten all these people to open up to you? What interview are you most proud of?
I think first and foremost I talk to them as a member of their community.  I'm not an interloper who is simply flying in to reap benefits and then disappear.   I spend time, take part in community events, and get to know them.  They become comfortable with me.   Secondly, I have a body of work that I show them so they feel confident about my abilities as a story teller. I'm not salacious.  I don't exaggerate.  I simply let their remarkable stories tell themselves.  I think they appreciate that.
I've had so many beautiful interviews but one that sticks out is a chapter in my Unknown Warriors piece.  His name is Steve Sato.  I met him at a Memorial Day ceremony in which we were honoring the war dead.  His father died in World War Two when Steve was one year old.  In fact, he never met his father.  Yet, that man had such an impact on Steve's life.  When I asked Steve if he would allow me to interview him about his father he was doubtful he would be of much value to me since he never knew his father but it was just the opposite.  When a soldier dies people often think of his tragic death but not a lot of attention is placed on the family he leaves behind.  Steve was perfect for that part of the story.
What do you want people to take away from these specials?
There are remarkable people who never look for or get credit for what they've accomplished/endured.  They deserve a light shined on them. When people watch these specials I feel like we've, to a small degree, accomplished that.  I want viewers to witness human frailty and resilience.  Just because a story happened years ago, doesn't mean it's lost its relevance.  In fact, stories of human frailty, struggle, and resilience will always be relevant
How has reaction to these specials differed by generation or even by nationality, if at all?
Usually the older generation reacts with a deep sense of gratitude.  Their story has barely been told in their lifetime.  When we do come out with a high profile piece on their experience I almost feel a sense of relief from them..almost like they are whispering "finally" and "thank you".   The younger generation quite often has never heard these stories.  So when they do, you get a sense of disbelief that this was even possible.  Especially for the stories that are based here in this country.
These specials have garnered you a few awards. Tell us about those.
Personally I've received 16 Emmy awards.  Jeff has received an equal amount for his photography and editing.  Together we've received the Edward R Murrow award three years in a row (Unknown Warrior, Japan Tsunami, Napalm Girl) Heart Mountain will be entered this year.   We have yet to received the prestigious Peabody Award, arguably the toughest of them all, but we'll keep trying.