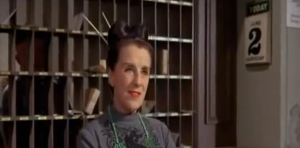 A play derided as racist and offensive by some in the Asian American community prompted a meeting of concerned citizens in Newton, Massachusetts on both sides of the issue Monday night, reports Boston.com (image from the movie, Thoroughly Modern Millie).
Thoroughly Modern Millie is based on the Julie Andrews movie of the same name. The story centers around a white woman in hiding who disguises herself as a Chinese woman by wearing yellowface make up and speaking in heavily accented English. Surrounding her are two sidekicks, Ching Ho and Bun Foo, who play subservient Asian laundrymen.
It just completed a brief run at Newton North High School.
Carol J. Oja, a professor of American Studies at Harvard University, spoke in favor of the approach Newton North took and argued against those who thought the play should have been rewritten to remove the offensive scenes.
"If the shows are all sanitized, then you lose track of our history," she said. "If we start erasing every troubling part of history, we run the risk of repeating it."
17 percent of the school identifies as Asian and the principal said she regretted if "any member of our community felt marginalized."
Many apparently did.
"You have bullied a whole community of Asian Americans, just like that," said one man.
One Chinese American parent whose son is active in the school's theater program relayed a story.
'I'm not sure about this show, I'm not sure I'd want Ama and Agong to have to see it,'" she said her son said about his grandparents.
You can hear more about this discussion and what some of the students who participated in the play said about it in Boston.com.