The Media Action Network for Asian Americans called on the Fox network "to end the "white only" dating policy of The Mindy Project series creator/star Mindy Kaling and to add more Asian Americans to the cast."
In a letter to Fox Entertainment chairman Kevin Reilly and other network executives, MANAA President Guy Aoki wrote ""We are concerned that in the course of two seasons, her character, Dr. Lahiri, has had a 'white-only' dating policy involving about a dozen men. And except for this season's addition of African American Xosha Roquemore the cast continues to be all white."
MANAA put the responsibility on Kaling herself who has the title of executive producer, and according to MANAA, is the show runner for The Mindy Project.
In recent weeks, the actress has been asked at least twice about the diversity issue.
A reporter for E! questioned Kaling on the red carpet at the Oscars about "who's her type." When the actress responded "good looking" the reporter shot back "any color?"
A week later during a panel at SXSW, Kaling was asked by an audience member if it "was it a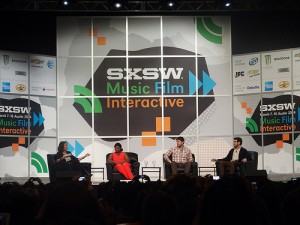 conscious decision for Mindy to be the only female doctor, and the only doctor color of show?" (Photo by Digital Photos)
This time Kaling was less patient, and responded with a series of F bombs, saying "I'm a f***ing Indian woman who has her own f***ing network television show, OK?…I have four series regulars that are women on my show, and no one asks any of the shows I adore — and I won't name them because they're my friends — why no leads on their shows are women or of color, and I'm the one that gets lobbied about these things"
Aoki said in his letter that Kaling needed to give back to the community and that her success, in part, was due to the many programs advocated for by MANAA and other groups.
You can read more about that in the letter to Fox from MANAA.