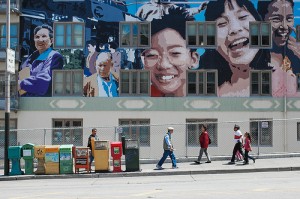 The arrest of California State Senator Leland Yee has some Chinese Americans wondering if the case reflects poorly on their community (photo by jakubkadlec).
 KQED went to the streets of San Francisco to get a sense of what many in that community are thinking.
"This person who is high profile, in the public eye, and represents Chinese Americans in the government and California in general, said Jennifer Cheung, 21, a student at San Francisco State. It's just frustrating. It reflects negatively not just on him but the group he represents."
21-year old Mathew Louie agreed.
"To have Leland Yee represent the Chinese in San Francisco, and have these accusations brought against him of illegal weapons dealing, wire fraud, things of that nature, just looks poorly in front of us," said Louie.
Of course, Yee doesn't represent the Chinese American community. He represents the city of San Francisco and much of San Mateo county.
But when there are so few Chinese Americans, even Asian Americans, who reach such high positions, many in those communities do see these people as role models.
When one of those role models falls, it hurts the entire community.
When so few Asian Americans are visible, others outside of those communities may see those people as reflective of that entire community, the thinking goes.
It shouldn't be that way. But it is.
I remember when I was a child, whenever we went to a city with few Asian Americans, my parents would always leave a larger tip.
"We don't want them to think Chinese are cheap," they would say.
In a sense, that's how many Chinese Americans and Asian Americans few about Leland Yee.
They don't want people to think all Asian Americans are corrupt.
Whether Yee is ever convicted or not, his name has been tainted.
That's tough to overcome.