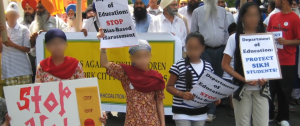 By Ernabel Demillo
"He smashed my head on a wall and I just fell down," recalled Gurwinder Singh, a college student studying at Stony Brook University in Long Island, New York.
Singh, a Sikh American, revealed the details of his attack in a recent interview with CUNY-TV's Asian American Life. He said he was attacked because of what he was wearing — a turban.
More than half of Asian American middle school and high school students have been bullied about their race or religions, according to a report conducted by the Asian American Legal Defense & Education Fund and the Sikh Coalition.
For young people of Sikh descent who wear turbans, the attacks are even more prevalent. Sixty-seven percent say they face taunts or attacks, some violent.
"The look of a Sikh is commonly perceived in America to be the look of a terrorist," said Armadeep Singh, the executive director of the Sikh Coalition.
His non-profit organization, along with other Asian American advocacy groups helped implement what was supposed to be a tough anti-bullying mandate in New York City schools. But, according to Singh, despite their efforts, they have found that the mandate isn't being carried out.
For more on the issue of race-based bullying watch the full segment in this month's "Asian American Life" on CUNY-TV at www.cuny.tv.
Other segments include an interview with Carla Ching, one of a handful of Asian American women playwrights whose new play, Fast Company, moved from Orange County's South Coast Repertory to New York's Ensemble Studio Theatre. Also featured this month is Broadway star Ann Harada, who has been getting rave reviews from her comic timing playing a stepsister in "Rodgers and Hammerstein's Cinderella; and a look at Asian American philanthropy.
You can also watch the full episode below. The segment on bullying starts 5:30 into the episode.