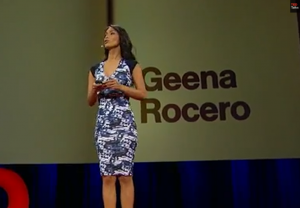 A Filipino American model who came out as a transgender woman for the first time just a week ago is launching a transgender advocacy group, reports GMA.
Geena Rocero, 30, had been keeping her secret from her modeling agency, her friends and colleagues for 9 years. That's when she went to Thailand to have her sex change operation, then moved to the United States from the Philippines to start a new life.
On May 3, she will speak at NextDayBetter's Defining Breakthroughs series to announce her new organization, Gender Proud, which describes itself as an "advocacy and awareness campaign that aims to advance the rights of all transgender individuals."
Geena says she was motivated to come out by the desire "to help others live their truths."
She was moved by the death of Islan Nettles, a transgender woman in Harlem who was beaten to death and her attackers did not face charges.
You can read more about pivotal moments in Geena's life in GMA.
(An earlier version of this story incorrectly used the word transgender as a noun. We apologize for the error).