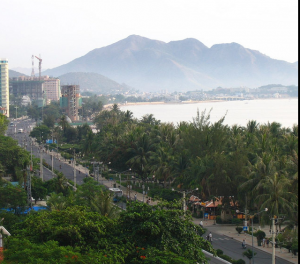 Vietnamese Americans came by the busloads to Irvine to protest a proposal to establish a sister city relationship with Nha Trang in Vietnam, reports the Orange County Register(photo by Tuey).
Their country South Vietnam fell to the communist. It wouldn't have mattered what city in Vietnam was proposed as the sister city. If it was connected to the communist government, these protestors who came from all over Southern California would oppose it.
"We escaped from that country, and we came here," said Peter Pham, president of the Vietnamese Federation of San Diego. "We are the ones fighting for freedom. We moved here. We live here. … And we cannot allow any communist to come here."
Councilman Larry Agran who proposed the idea said he did not know those feelings still ran so deep.
He withdrew the proposal, but continued with his two other proposals to establish sister city relationships with Karachi in Pakistan and Baoji in China.
That passed without opposition.
You can read what Vietnam thought about all this in the Orange County Register.