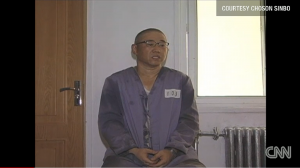 A Korean American held prisoner in North Korea now for 18 months is complaining of the harsh conditions in the labor camp where he is imprisoned, reports NBC.
Kenneth Bae spoke to a Swedish diplomat and said he is in great pain and wishes to be back with his family.
"I think it is very difficult to continuously work here in the longer term, as I still have a lot of pain in my back and legs," Bae said to the North Korean-friendly newspaper, Choson Sinbo. "I hope that my issue gets tied up as soon as possible so that I can return to the arms of my loving family."
So far no word on whether Jesse Jackson's request to travel to North Korea to secure Bae's release will be accepted by the communist nation. North Korea has nixed several attempts by American Ambassador Robert King to meet face to face about the situation.
The two countries have no formal diplomatic relations and Sweden has acted as a go between.