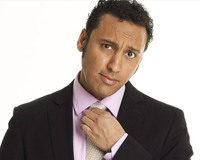 By now, you've heard that Stephen Colbert will be replacing David Letterman on the Late Show when he retires in 2015.
Now the speculation turns to who will or should replace Colbert on Comedy Central.
The Daily Kos makes an argument for the Daily Show's hilarious correspondent, Aasif Mandvi.
Sem Dem argues that "if Aasif was white, non-Muslim, and didn't have an "odd" name, he'd be leading the pack because what he is is FREAKING HILARIOUS."
He's been the regular correspondent for the Daily Show since 2007 and is strongly identified with Comedy Central.
Read the Daily Kos argument for Mandvi and then tell us who you think should take Colbert's place.