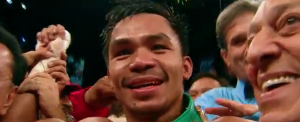 Pacman on Bradley: "He's very tough. He gave me a good fight, it's not that easy."
Wow. Bradley calls Manny the best in the world.
Exciting fight. I hope you enjoyed the coverage.
116-112, 116-112, 118-110. Unanimous decision,as I predicted before the fight
The winner is Pacquaio
ESPN has Pac winning this fight
It's over. Pacquiao should have this won.
this is not good for Bradley
Here we go. The final round
ESPN and Fox gives 11th to Pacquiao
Wow, Crowd is booing Bradley as he appears to be retreating
Bradley is described as tired in round 11. Swinging and missing
I called a unanimous decision for Pacquiao before this fight. But again…remember Pacquaio-Bradley1?
ESPN and Fox both have PacMan winning the 10th. Pacman up on points
No knockout into the 1oth. this will be decided by decision, likely for Manny
ESPN gives 9 to manny
Fox has Pacquiao ahead through 9. 88-83
Bradley needs to steal the momentum back if he's going to win this thing. But again, that's what we all said last time.
Does Pacman still have that killer instinct. Can he end this thing?
Eighth goes to Pacman says Fox. ESPN agrees
Can Pac knockout Bradley?
The momentum is with Pacquiao.
Espn gives 7 to Pacquaio. Fox has Pacquiao up through 7
Pacquiao getting in his shots in 7. But is he hurting Bradley? Probably not
Fox gives 6th to Pacquiao. ESPN has Pacquiao slightly ahead through 6
ESPN gives round 5 to Bradley. This fight is going down to the wire.
Fox has Pacman slightly ahead through 5
Fox gives 4th to Bradley. ESPN likes Pacman. This fight is close
Manny stumbles in the 4th, but got in some good body shots.
Who do you have winning the fight?
Both fighters getting in good licks in round 3. Fox gives round 3 to Pacquiao'. ESPN scores it for Bradley
Fox and ESPN agree. Round 2 to Pacquiao
Pacquiao is hurting Bradley in round 2
ESPN has Pacquiao winning round 1. Fox has Bradley winning it. Round 2 underway
Bradley is not lacking in confidence while PacMan comes out aggressive.
The fight is underway.
The waiting is over
Who do you like in this fight. I think its Pacquiao by unanimous decision. We shall see.
Bradley has the expression of a man possessed as he enters the ring. He wants this bad. He can taste it. Pacquiao playing the role of the veteran is much more relaxed. Maybe too relaxed?
Pacquiao is the first to enter the ring. Crowd roars
This is going to be a good fight. Two fighters with a lot to prove and a lot on the line.
Is Pacquiao finished. Was Tim Bradley's first victory over Pacquiao for real? A lot of questions to be answered tonight.