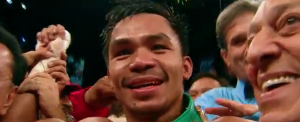 In just a few hours, Tim Bradley Jr will square off with Manny Pacquiao in a rematch of a fight that started Pacquiao's downward spiral.
Fight fans will remember it was June 9, 2012 when Pacquiao seemed to handily defeat Timothy Bradley– or so they thought.
The judges had their own idea and gave the fight to Bradley by decision. That of course was followed six months later by Juan Manuel Marquez shocking knock out of Pacquaio.
Here's the knock out punch.
It would be a year before Manny would return to the ring–easily beating Brandon Rios for the WBO International.
Pacquiao's victory wasn't enough to quiet the loud whispers that Pacquiao is at the end of his career. Some say a defeat to Bradley a second time tonight will be the end.
While you're waiting for the fight, check out the first Pacquiao-Bradley fight below.