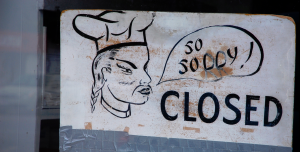 Much has been written about how a tweet from the Colbert Report backfired when it was sent out of context (photo by Steve Snodgrass).
The incident is reminiscent of an incident back in 1870 involving author and satirist Bret Harte, reports Politico.
Harte wrote a poem intended to satirize the racism faced by Chinese immigrants at the time. Laws barred them from becoming American citizens, attending public schools and testifying against whites in court.
Harte's piece which became known as The Heathen Chinee went viral, so to speak. But somehow Harte's message of tolerance and anti-racism was missed. Instead The Heathen Chinee became a rallying cry for those who would have preferred lynching the Chinese instead of welcoming them.
Harte would later call The Heathen Chinee the worse verses he ever wrote.
You can read exactly how all that came about in Politico.