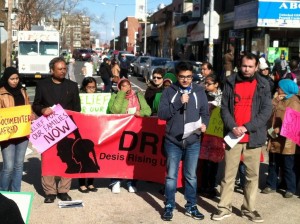 More than 100 people rallied in Queens asking that President Obama grant administrative relief and end deportations, reports the Queens Chronicle.
"We need relief now," said 13-year-old Nushin Tarannum, whose father was detained by immigration. "Detentions and deportations have broken our families apart. I don't want to lose my dad again."
The rally was organized by DRUM (Desis Rising Up and Moving).
Under the Obama administration, more undocumented immigrants have been deported for minor offenses.
You can read more about the protestor's demands in the Queens Chronicle.