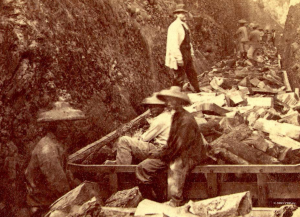 Chinese Americans played a key role in the building of the transcontinental railroad (photo from Central Railroad Photographic History Museum).
Now an Asian American photographer is hoping to correct a major omission in the writing of US history, reports Reappropriate.
When the celebration was held in 1869, the Chinese who risked their lives and even died building the historic link between east and west were omitted.
Even today, when the celebration is recreated annually, little effort is made to include the Chinese contribution in building the railroad.
Corky Lee, who has dedicated his life to documenting in photographs the Asian American experience, is calling on Chinese Americans to gather at the Golden Spike National Historic Site in Tremonton, Utah, to recreate historic photographs of the celebration.
You can read more about Corky's efforts in Reappropriate.