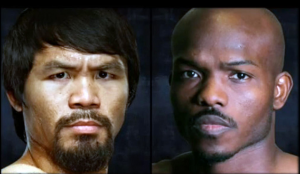 Manny Pacquiao entered his post fight news conference with both a wide grin and a look of relief, reports USA Today(photo by Michael Howard).
He survived 627 punches from Timothy Bradley, managing to deflect most of them.
Pacquaio made the most of his 563 punches, connecting on far more punches than Bradley could.
Still Pacquaio needed 32 stitches over his left eyebrow in defeating the previously undefeated Bradley. The gash came from an accidental headbutt in the 11th round.
The three judges left no doubt who had won, reaching a unanimous decision 116-112 , 116- 112 and 118-110.
Still Pacquaio professed a lot of respect for his opponent.
"Yes I tried to finish him several times," Pacquiao said. "Many times I hit him hard, but he was still there,
"We cannot underestimate Bradley. He's very tough."
You can check out highlights from the fight below from ESPN.